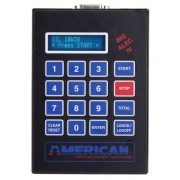 Big ALEC Fluid Inventory Control System
EASY TO OPERATE: Two-line alpha-numeric LED display prompts the user with operating instructions.
PRODUCT NAME DISPLAY: Keypad can be set up to display any of 24 pre-programmed product descriptions.
PASSWORD PROTECTION: Programmable password protection (three levels) prevents unauthorized use.
EXTREMELY ACCURATE: Field calibrateable (two different methods) for the highest level of accuracy.
CHANGEABLE UNIT OF MEASURE: Can be programmed in the field for Pints, Quarts, Gallons or Liters.
USER RE-SETTABLE TOTALIZER: Allows more inventory tracking options for the end user.
WALL MOUNTABLE: Keypad and junction box include built-in wall mount bracket for ease of installation.
COMPACT DESIGN: Small keypad with remote mounted wiring junction box takes up less space and gets wiring out of the way of the user.
FULL NUMERIC KEYPAD: Allows direct entry of preset amount. Competitive models have only three buttons to accomplish this task.
Items in Big ALEC Fluid Inventory Control System