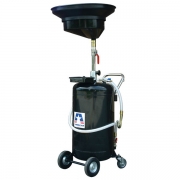 Waste Oil Drains
HEAVY-DUTY Heavy-duty all-steel tank stands up to the harshest environments.
LARGE CAPACITY 24-gallon capacity allows user to perform more oil changes before having to evacuate the unit.
DRAIN PAN Metal drain bowl has built-in filter screen to prevent foreign matter from entering the drain.
EXPANSION FUNNEL Removable plastic drain bowl expansion funnel with built-in filter screen provides support for draining oil filters.
BUILT-IN FLUID GAUGE Allows operator to see the oil level in the waste oil drain.
4-WHEEL DESIGN Allows easy maneuverability, including on uneven surfaces.
DRAIN PLUG 1" drain plug on the bottom of the unit for easy cleaning.
Subcategories in Waste Oil Drains