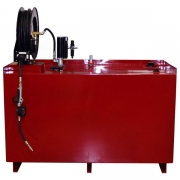 Tank Packages
For 100 years, American Lubrication Equipment Corporation has provided the best solutions for today's marketplace. Tank packages eliminate the expense associated with lubrication equipment installations. With no installation labor or piping costs, you will save hundreds--if not thousands--of dollars.
Our tank packages provide the quickest way to get a new customer up and running. Place an order today and it will leave our factory usually within 48 hours on a truck bound for the location of your choice. When it arrives, simply remove the protective packaging, connect the air hose and fill with oil. It's the fastest way to get your new customer up and running.

COST EFFECTIVE Tank packages eliminate the installation expense associated with equipment installation.
SIMPLE Remove the protective packaging, connect the air hose, fill with oil, and your customer is up and running
FAST DELIVERY Large inventory enables most packages to ship within 48 hours
MORE CHOICES American Lubrication offers the broadest selection of tank packages on the market
PROTECTIVE PACKAGING Tank packages are covered with custom protective packaging to help protect them from shipping damage
ENAMEL PAINT All tank packages come standard with an enamel painted finish
UL 142 AND N.F.P.A. 30 All tanks are built to UL 142 and also meet the N.F.P.A. 30 specifications
FRESH AND WASTE OIL PACKAGES American Lubrication offers single and double-wall packages for fresh oil systems and waste oil systems
Subcategories in Tank Packages